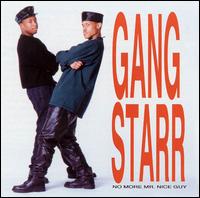 To Be A Champion - Gang Starr - 1989

While it's agreed its a bit late to offer a tribute to the late Guru of GangStarr, I decided to play one of his more obscure tracks anyway. We're not sure if you were aware that there was a Gang Starr album that predates Step Into the Arena, much less this B-side track to a single from said album.

The content does not stray too far from Guru's typical talking points of this era, e.g. Guru's the shit and you are likely not. Still I find myself drawn to the minimal production and am always delighting in Guru's paradoxical and occasionally juvenile word choices. "You can call me I'm a realist, an idealist, whichever you prefer - I'm takin' you prisoner, so just call me Sir!"