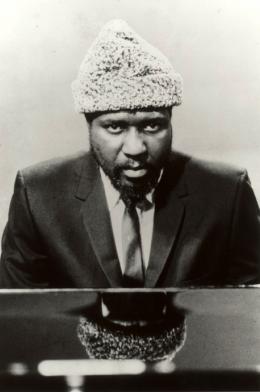 Brilliant Corners - Thelonious Monk - 1957
Da Mystery of Chessboxin' - Wu-Tang Clan - 1993

RZA, talking about jazz influences (taken from the Wu-Tang Manual):

I feel like I have all types of signatures to my style, so I don't have one particular sound. I know that a sound I became known for at the beginning was that detuned acoustic piano zither--those solo creepy notes that quiver in the air. It's the kind of sound you hear in "7th Chamber," "Da Mystery of Chessboxin'," and a bunch of other early joints. It's funny when people ask me the inspiration for it, because, to be honest, it was jazz pianists--mostly Bill Evans and Thelonious Monk--but the fact is I played most of it myself.

Early on, I saw that movie Straight, No Chaser--a documentary about Thelonious Monk. I watched it and saw how this guy was playing and it was just ... crazy. I mean, he'd play a note or two. Smoke a cigarette. Smack the piano. Walk away from it, come back. And it was like, "You can do anything! There's no rules to it!"

After I saw that movie, I started playing around with the piano part in "Chessboxin'" -- where it goes "DO, doo-do-DOO. Doodle-DOO. Do. Doo." You hear my try to go up a little bit, flip it out a bit. That's all from me watching Thelonious Monk with a joint in my hand, just playing.